We discuss the following topics in this blog:
What is a CPRI and significance of eCPRI?
Two Core Principles of O RAN: Virtualization and Openness
Advantage 5G: Open RAN Momentum due to eCPRI
In addition to these topics, we shall also be answering the following FAQs:
What is WiFi?
What is 5G NR?
Overview
Before we delve deep into the beautiful relationship among Enhanced Common Public Radio Interface (eCPRI), 5G and Open Virtual Radio Access Network (Open vRAN), it is necessary to appreciate the lay of the land of the cellular network.
At the outset, remote radio units (RRUs) are distributed on the towers every few miles in cities and towns. These RRUs comprise antennas and some compute functionality. These groups of RRUs are connected to a more centralized baseband unit (also called as Central Processing Unit) through Fiber. And this connection between the RRUs and the base station is referred to as "Fronthaul."
What is a CPRI?
CPRI is an interface that sends data from the RRUs to the baseband unit. It's a serial interface, which is a very high-speed connection, a way to translate all those radio signals back to the computing function. In tech parlance, it can be defined as industry cooperation aimed at defining publicly available specifications for the key internal interface of remote radio head (RRH) or Radio Equipment (RE), and base station unit (BBU) or Radio Equipment Controller (REC) via a so-called fronthaul transport network.
What is the Significance of eCPRI?
This Common Public Radio Interface (CPRI) has been around for quite some time. But as we enter 5G, extreme 5G requirements would stretch the limits of fiber bandwidth. The fiber between the RRUs and the baseband unit is going to carry much more traffic, and that makes it more difficult to do a serial interface. The way to solve this is by splitting up the baseband functions and putting some of that functionality in the RRU to reduce the traffic burden on the fiber – this is eCPRI.
The scope of the eCPRI specification is to enable efficient and flexible radio data transmission via a packet based fronthaul transport network like IP or Ethernet. eCPRI defines a protocol layer which provides various – mainly User Plane data specific – services to the upper layers of the protocol stack. This opens the door for higher network throughput with less fiber, which will create more efficient deployments, among other benefits.
Not only will the radio interface be more efficient, it will also be more flexible. CPRI is a point-to-point interface, meaning that vendors will be exclusive within their own network. Whereas eCPRI will be an open interface, making it easier for carriers to mix and match vendor equipment, allowing more convergence in the industry as carriers complement networks with shared equipment. This is also a significant step in creating an open architecture within the radio access network (RAN).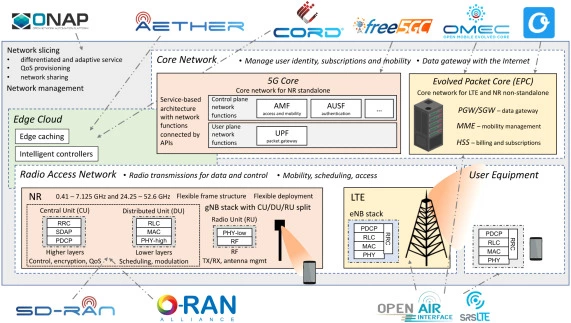 eCPRI and Two Core Principles of O RAN: Virtualization and Openness
O-RAN utilizes interfaces built on the eCPRI specification framework; Where Ethernet enables virtualization by allowing fronthaul traffic to switch between physical nodes using common off-the-shelf networking equipment. eCPRI enables ORAN's goal of maximizing the use of off-the-shelf hardware and minimizing the use of proprietary hardware.
Another of the group's core principles is openness, a critical component for allowing MNOs to build multi-vendor O-RANs. The eCPRI interface itself is also an open interface. Using open interfaces allows the MNOs to mix and match equipment from multiple vendors and link them through interoperable standards and interfaces.
Advantage 5G: Open RAN Momentum due to eCPRI
Here is the stated mission of Open RAN Policy Coalition ORPC:
"The Open RAN Policy Coalition is a group of companies formed to promote policies that will advance the adoption of open and interoperable solutions in the Radio Access Network (RAN) as a means to create innovation, spur competition and expand the supply chain for advanced wireless technologies including 5G." Neither O-RAN nor Telecom Infra Project TIP is focused on policy. ORPC is filling a need in taking the broad work of those two organizations and channelling it toward government initiatives. ORPC drives policy to make sure standards are open and interoperable going forward in contrast to standards bodies like 3GPP which have missed the mark in the past.
Key words are Open and Interoperable!
5G Roadmap is going to be complex and extensive.
5G infrastructure today is not cheap. CSPs are pumping millions of dollars every year into building networks yet are met with stagnating ARPUs, operational complexities that introduce more costs, and it's not sustainable. First and foremost, network economics must change for 5G to scale and deliver the business value touted in marketing presentations, sales briefs and webinars. The business model and ROI for 5G is yet to be realized. The big value of 5G is neither the network nor the network infrastructure. It's not the operators. It's actually the applications that run on top of the network. It is about making 5G much more affordable than what it is today.
While webscale operations can address the expensive process of building networks, from acquiring the spectrum to deploying, densifying and upgrading. Disaggregating radio hardware and software, trading single-purpose equipment for general-purpose hardware and moving vital network functions into the cloud, is an actual game changer. By focusing now on an open architecture, an open standard and a potential to source white box hardware, 5G acceleration seems more plausible. O vRAN Coalition policy is on that path.
FAQs
What is WiFi?
Put simply, WiFi is a technology that uses radio waves to create a wireless network through which devices like mobile phones, computers, printers, etc., connect to the internet. A wireless router is needed to establish a WiFi hotspot that people in its vicinity may use to access internet services. You're sure to have encountered such a WiFi hotspot in houses, offices, restaurants, etc.
To get a little more technical, WiFi works by enabling a Wireless Local Area Network or WLAN that allows devices connected to it to exchange signals with the internet via a router. The frequencies of these signals are either 2.4 GHz or 5 GHz bandwidths. These frequencies are much higher than those transmitted to or by radios, mobile phones, and televisions since WiFi signals need to carry significantly higher amounts of data. The networking standards are variants of 802.11, of which there are several (802.11a, 802.11b, 801.11g, etc.).
What is 5G NR?
5G typically refers to the fifth generation of wireless technology. NR, commonly known as New Radio, is a standard developed by the 3GPP Group (Release 15 being the first version introduced back in 2018) outlining the technology required to harness the newly-available millimeter-wave frequencies. The two frequency bands in which 5GNR operates are Frequency Range 1, i.e., Sub 6GHz band (410 MHz to 7125 MHz), and Frequency Range 2, i.e., millimeter-wave (24.25 to 52.6 GHz). Over 4G LTE, 5G NR provides better spectrum utilization, faster data rates, hardware efficiency, and improved signal processing.
From a deployment standpoint, we have Non-Standalone Mode(NSA), Dynamic Spectrum Sharing(DSS), and Standalone Mode (SA). The initial deployments of 5G NR are based on NSA standards, meaning the existing 4G LTE network will operate on the control plane, and 5G NR will be introduced to the user plane.
This particular standard was introduced by 3GPP, keeping in mind the industry's push to faster 5G services rollout while utilizing the existing 4G LTE infrastructure currently in place. On the other hand, operators are also implementing Dynamic Spectrum Sharing (DSS) to accelerate the deployment cycle, reducing costs and improving spectrum utilization. In this standard, the same spectrum is shared between the 5G NR and 4G LTE, multiplexing over time per user demands. Lastly, we have the Standalone Mode (SA), which moves towards a complete 5G based network where both signaling and the information transfer are driven by a 5G cell.
In the future, 5G will enable new services, connect new industries and devices, empower new experiences, and much more, providing mission-critical services, enhanced mobile broadband, and various other things.
a) Enhanced mobile broadband (eMBB) Applications: High device connectivity, High mobile data rates, and Mobile AR & VR applications
b) Ultra-reliable, low-latency communications (uRLLC)Applications: Autonomous vehicles, Drones, Data monitoring, Smart mfg.
c) Massive machine-type communications (mMTC)Applications: Healthcare, Industry 4.0, Logistics, Environmental monitoring, Smart farming, Smart grids