Today's digital world is built on the foundation of hyper-scale and cloud data centers. Hyper-scale operators optimize their data centers to have a low total cost of ownership (TCO), with scalability and modularity to offer on-demand IT capacity anywhere, thanks to hundreds of thousands of individual servers connected via high-speed networks.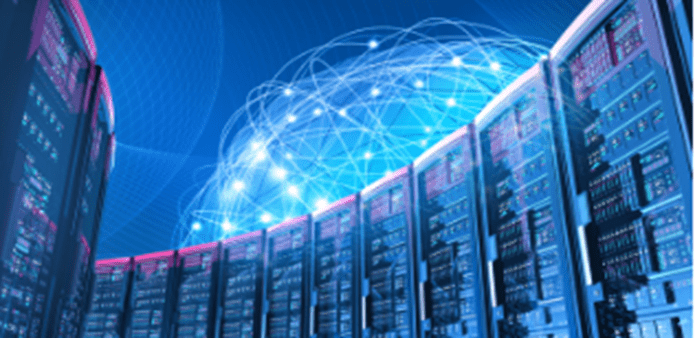 What do you mean by hyper-scale?
The term "hyper-scale" refers to the hardware and software architecture used to build highly adaptive computing systems connecting many servers. The IDC's definition stipulates a minimum threshold of 5,000 servers on a footprint of 10,000 square feet or more. While vertical scaling (scaling up) boosts existing hardware's power, speed, and bandwidth, horizontal scaling (scaling out) swiftly responds to demand by deploying or activating more servers. Cloud computing and big data applications are well suited to the large capacity offered by hyper-scale technology. Software-defined networking (SDN) and specialized load balancing are required to direct traffic between servers and clients.
How does hyper-scale work?
The sophisticated building blocks that are generally found in ordinary computer systems are abandoned in hyper-scale computing. Instead, it encourages simplified designs that aim to maximize hardware performance because they are more affordable and allow for higher investment in software needs.
Servers are connected horizontally in hyper-scale computing, making adding or removing them quick and easy as capacity needs change. This procedure is controlled by a load balancer, which also handles requests and distributes resources according to the capacity available. In addition, the load balancer monitors server workload in real-time concerning the data volumes that must be addressed and adds more servers as necessary.
What are the benefits of hyper-scale?
Companies are converting to hyper-scale cloud computing for a variety of reasons, including the following:
Speed: Your business can benefit from using hyper-scale data centers to develop, build, and manage its varying computing requirements.
Reduced downtime losses: Data interruption costs can be decreased using hyper-scale computing. Without hyper-scale computing, systems that go down lose money, goodwill, the services of their IT staff, who must determine why the services stopped working, and other losses associated with corporate operations. Before the system can be used again, they might need to take care of compliance concerns and inform customers. Companies can lose millions or even hundreds of thousands of dollars due to data loss. By using hyper-scaling, businesses can reduce downtime brought about by high demand or other issues. Additionally, hyper-scaling speeds up the process of bringing IT systems back online.
Simplified management: With the advent of hyper-scale clouds, computer operations will require fewer personnel and layers of control.
Easier transition into the cloud: Many businesses expand into the cloud. They begin with less essential applications. Then, they frequently add mission-critical software and data over time. Finally, they might want to link their personal cloud to a public one. Enterprises can migrate to the cloud at their own pace with the aid of hyper-scale cloud computing.
Scalability per demand: Peak seasons exist for some businesses, such as those offering goods during winter vacations. Thanks to the hyper-scale cloud, companies can scale up when demand is high and down when demand is low. Additionally, the hyper-scale cloud enables widespread data distribution.
Why do hyper-scalers require fiberization?
Additionally, the hyper-scale cloud enables widespread data distribution. There are numerous difficulties in hyper-scale fiber deployment.
Worldwide, the transition to considerably fiberized networks has already started. Rapid and affordable rollouts are currently urgently required. However, large-scale fiberization projects are challenging to complete because of the following problems:
· Inadequate route surveys
· Using both expert and unskilled labor
· Insufficient planning
Additionally, as unorganized enterprises predominate the market, fiber deployment strategies must be rethought in order to meet the demand for ultra-fast deployment.
For hyper-scale fiber deployment, a clever and reproducible strategy has been developed. Traditional infrastructure must be transformed into fiber-centric infrastructure at an unprecedented rate and scale. In this case, we have developed a method of execution that makes possible speedy, repeatable and economical large-scale fiber deployment. Our strategy fundamentally eliminates all obstacles and offers the following advantages:
· Efficacy of network design
· The effectiveness of technology-assisted fieldwork
· The effectiveness of project management and automation
Conclusion
Hyper-scale data centers are now more than just a place to store more data. Instead, they have established themselves as the strongest, most dependable, and most secure data center, with the capacity to scale up and down to satisfy changing organizational needs. A reliable network is absolutely essential, given current data usage and proliferation trends. A key element of high-performing networks is the degree of fiberization in the data networks. Thus, making rapid fiberization is paramount for hyper scalers.