We discuss the following topics in this blog:
Digital Identity Solution as the Need of the Hour
Principles Driving STL's Digital Identity & Access Solutions
Anticipated Benefits of STL Digital Identity & Access Solution for Telcos
Digital Identity Solution as the Need of the Hour
Telcos across the globe are in the quest of a Digital Identity which is verified to a high degree of assurance, unique, established with individual consent, and protects user privacy and control over their data. A trusted digital identity can act as a reliable gateway for customers to access multiple security-sensitive services, including mobile operator services, financial services, and eGov services.
The customer identity can be authenticated over digital channels through one or more factors such as Biometric Authentication, Government ID card, Two-factor Authentication etc., resulting to significantly reduced customer acquisition cost for telcos.
Digital identity solution is the need of the hour for Telcos due to increasing number of identity & authentication frauds and poor on boarding customer experience which results in increased customer abandonment rate, poor conversion rate & loss of revenue opportunities.
The Digital Identity & Access solutions enable telcos in addressing the following challenges.
Poor user experience: customers, enterprises & partners have multiple identities which lead to cumbersome on boarding for every new purchase & self-care journey.
Low conversion rates as there is no unified customer, enterprise & partner identity which impacts cross-sell/upsell, loyalty & rewards programs.
Fraudulent activity and identity theft result in trust & privacy issues.
Potential for human error: Manual assessment has limits and is subject to a lower level of trust than automated and multi-factor systems.
The barrier to cohesive omni-channel experience: Lack of seamless customer verification across the various channels, services.
Current systems are not flexible enough to allow customers to have control over the data shared during the on boarding process.
Telcos legacy systems are not intelligent enough to use the provided customer details for creating personalized offers (NBO/NBA).
Lack of centralized access mgmt. capability for enterprise customers & partners – Configuration across multiple systems leads to increased cycle time & is error-prone.
Lost revenue opportunities for Telcosdue to lack of unified customer identity which prevents them from monetizing the customer data by selling this to third party providers.
Around 1 billion people lack legal identification worldwide, countries are increasingly turning to digital identification systems. As per Gartner research, the key factors which are driving the needs for Digital Identity and Access Management solutions are:
Evolving digital business
Providing a unified experience
Meeting the requirement for a 360-degree view of the customer that is privacy-respecting
Replacing home grown & legacy solutions
Streamlining operations
The Digital identity Solution market is growing at a CAGR of 17.3% and is expected to reach USD 30.5 billion in 2024 as per MarketsandMarkets analysis and the key factors contributing to this growth is the focus on enhanced customer experience and an increasing number of fraudulent transactions.
What are the Principles Driving STL's Digital Identity & Access Solutions?
STL has designed their Digital Identity & Access solutions on the below guiding principles:
User-centric focus: Ensuring unified & seamless experience across services and subscriptions using a single identity.
Designed for today with an eye to the future: Flexible so that it meets the needs of today while being scalable to future possibilities.
Privacy-enhancing & Consent-based: Personal information is only shared with the consent of the customer in a secure way to the right entities under the right circumstances.
Sustainable: Agile so that integration and partnership with government, third party entities can be established when required.
Progressive Profiling for personalized cross-sell, up-sell and loyalty based rewards.
Cloud-Native and TMF Open API compliance.
Multiprotocol support (OIDC, SAML, SCIM).
Centralised with the flexibility to customize access control for user interfaces and API.
Generate additional revenue streams – Offers "Authentication as a Service" over an API for customers, enterprises, partners and devices.
Enterprise Customer Management –

Full digital user management for enterprise customers
Flexible role management for multiple user types
Multilevel hierarchy view, groups and departments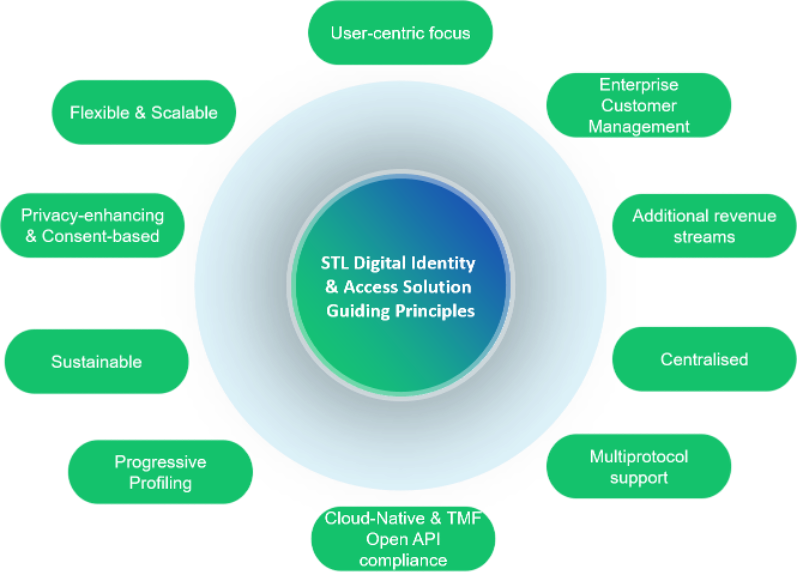 What are the Anticipated Benefits of STL Digital Identity & Access Solution for Telcos?
Improved User Experience: Streamlined and consistent omni-channel on boarding processes for faster customer acquisition.
Reduced operational costs through independent on boarding and user authentication processes.
Faster time to market by reducing development time and costs required to roll out new services.
Increased revenues from selling more services to individual users.
Ease of purchasing additional services: Wider breadth of 'high-value' digital services made available to the Telco customer without repeating the KYC (Know Your Customer) process.
Enhanced Privacy: Reduction in unnecessary disclosures of personal information and increase in direct user consent, including potentially enabling users to control and keep private their identity information.
Improve user data with progressive profiling and monetization.
Reduced Fraud & Identity Theft: Stronger identity controls and processes to combat misuse and identity theft.
Minimize Telcos Investment: Ability to participate in the identity ecosystem and verify the identity of users for third party online transactions (e.g. banking).