Starts FY 19, with an all-time high order book of Rs 5,223 Cr (YoY growth of 73%)
Increasing global footprint – Exports contributing 54% of the FY18 revenues up from 37% in FY17
FY18 PAT increased by 66% over last year
Sterlite Tech [BSE: 532374, NSE: STRTECH], an end-to-end global technology leader in smarter digital networks, today posted its financial results, for the fourth quarter and year ended March 31, 2018.
Robust sustained growth with improving capital efficiency: (3-year performance)
Demonstrated historical performance on all key metrics (Revenues, EBITDA, PAT) showing a strong growth continuously on yearly basis. Three-year CAGR at 19% for Revenue, 29% for EBITDA and 47% for PAT.
Healthy balance sheet, with improving Return ratios. ROCE & ROE for business as of FY 18 stands at 30% & 28% respectively. Net Debt to Equity now stands at 0.7x.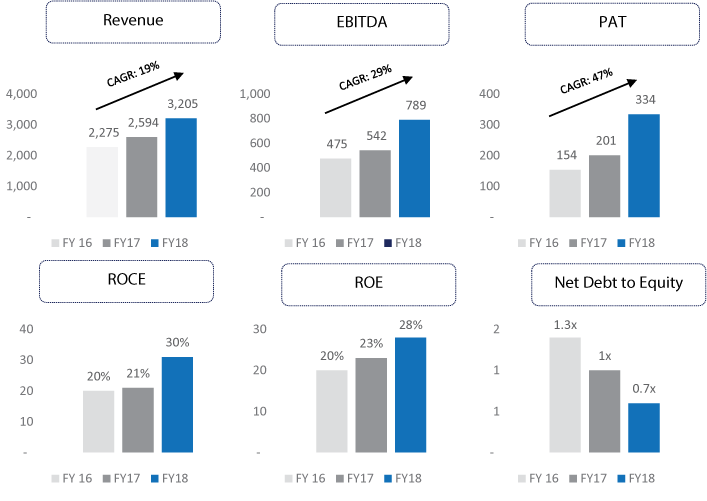 Continued Quarterly Growth: Continuing the past quarterly performance trend, Q4 FY18 demonstrated growth across all key financial performance metrics.
| Particulars | Q4FY2018 | Q4FY2017 | % Growth | FY2018 | FY2017 | % Growth |
| --- | --- | --- | --- | --- | --- | --- |
| Revenue | 847 | 707 | 20% | 3,205 | 2,594 | 24% |
| EBITDA | 238 | 166 | 44% | 789 | 542 | 45% |
| PAT | 112 | 64 | 77% | 334 | 201 | 66% |
Improving profitability metrics with Q4 EBITDA & PAT margins at 28 % & 15% respectively.
PAT (Net Income) increase by 77% on YoY basis, riding on growing operating leverage and

improved capital structure.
Strong Business Fundamentals: The company's strong business fundamentals are its levers for growth, and lend high future visibility.
The company's unique global position as an end-to-end integrator of data networks with complete control of the optical-fibre value chain, translates into margin structures that are among the best in the industry.
The company has been increasing its global presence, with new market additions and deeper penetration in existing markets, resulting in international revenues more than tripling from Rs 537 Cr in FY 16 to Rs 1,735 Cr in FY 18, up by 81% against FY 17.
Its geographic revenues split is well balanced between domestic and exports, with exports accounting for about 54% of the revenues in FY 18. Europe and China are now established key markets, and the company continues to maintain its leadership position in the domestic market.
Acceleration of the company's capacity expansion in the optical communications product business with higher utilisation rates, provides higher visibility of volume expansion in the coming financial year.
The company has deep customer engagement with Tier-1 operators, resulting in many strategic long-term contracts and order wins during the year. The order book has grown from Rs. 3,018 Cr to Rs 5,223 Cr in one year (73 % increase YoY).
Technology led innovations is core to the company. Its patent count has been growing, and reached 189 as of FY 18, offering strategic competitive advantage for market access and higher realisation from new products, which account for 14% of the Revenues.
Recently, CRISIL has upgraded its rating on the long-term bank facilities of Sterlite Tech to "CRISIL AA/Stable" from "CRISIL AA-/Positive", and reaffirmed its "CRISIL A1+" rating on the company's commercial paper programme.
Commenting on the company's excellent performance over past quarters and years, Dr Anand Agarwal, CEO, Sterlite Tech, said, "We are playing an integral role in creating the next-generation fibre and software-based smarter networks to connect the world, while delivering sustainable long-term performance. We are seeing a very strong wave of fibre deployment over the next 10 years due to exponential data growth and 5G deployments across the globe."
"Our customers are entering into long-term contracts with us on the back of our ability to innovate for their needs. We continue to invest in technology for smarter digital networks that are software defined, centrally managed, scalable, open source with optimised capex models," he added.
In line with Sterlite Tech's corporate philosophy of shared value creation, the Board of Directors have recommended a dividend of Rs 2 per share for FY 18.
About Sterlite Technologies:
Sterlite Technologies Ltd [BSE: 532374, NSE: STRTECH], is a global technology leader that designs, builds and manages smarter digital networks. Sterlite Tech engages with customers in more than 100 countries, with a digital web-scale offering across products, services and software. The Company has global scale manufacturing facilities in India, China & Brazil and two Software Delivery Centres in India. Sterlite Tech is home to India's only Centre of Excellence for broadband research and Centre for Smarter Networks for next generation network applications. Projects undertaken by the company include intrusion-proof smarter data network for the Armed Forces, rural broadband for BharatNet, Smart Cities' development, and establishing high-speed Fibre-to-the-Home (FTTH) networks. For more details, visit www.sterlitetech.com
Forward-looking and cautionary statements: Certain words and statements in this release concerning Sterlite Technologies Limited and its prospects, and other statements relating to Sterlite Technologies' expected financial position, business strategy, the future development of Sterlite Technologies' operations and the general economy in India, are forward-looking statements. Such statements involve known and unknown risks, uncertainties and other factors, which may cause actual results, performance or achievements of Sterlite Technologies Limited, or industry results, to differ materially from those expressed or implied by such forward-looking statements. Such forward-looking statements are based on numerous assumptions regarding Sterlite Technologies' present, future business strategies, and the environment in which Sterlite Technologies Limited will operate in the future. The important factors that could cause actual results, performance or achievements to differ materially from such forward-looking statements include, among others, changes in Government policies or regulations of India and, in particular, changes relating to the administration of Sterlite Technologies' industry, and changes in general economic, business and credit conditions in India. Additional factors that could cause actual results, performance or achievements to differ materially from such forward-looking statements, many of which are not in Sterlite Technologies' control, include, but are not limited to, those risk factors discussed in Sterlite Technologies' various filings with the National Stock Exchange, India and the Bombay Stock Exchange, India. These filings are available at www.nseindia.com and www.bseindia.com.