Crime down by 39%, road accidents by 20%, speed violations by 12% and energy expenditure by 40% – Welcome to the new Gandhinagar in Gujarat, India.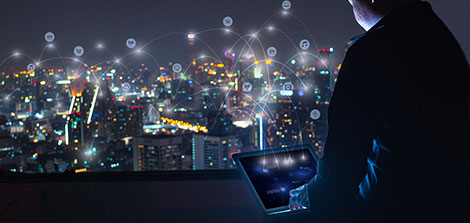 Smart cities aren't just a buzzword anymore. Thanks to new technology and better connectivity they are taking over the world, one city at a time. In India this digital revolution has taken root in Gandhinagar, Gujarat, changing not just the way people live, but government administration, public safety and energy consumption. This smart move is largely thanks to STL's end-to-end smart city solutions.
Towards a safer future
Today, 75% of the city has access to WiFi services which has revolutionized the way people, governments and businesses connect with each other. Citizens can now access administrative services at their convenience, get live updates about public welfare schemes, weather conditions, air quality and more.
Similarly, real-time surveillance is helping the police force to better manage traffic as well as track and apprehend criminals when required. To further simplify and streamline this process STL installed face detection, traffic monitoring, speed detection and number plate recognition systems. Thanks to these developments road accidents have been reduced by 20% in the city while the crime rate has fallen by 39%.
Motion sensor equipped streetlights that activate and deactivate when they sense movement have helped reduce energy expenditure in the city by 40% as well as minimize carbon emissions. In-city mobile applications have also made it easier for people to pay bills and connect with various government departments for assistance.
A smarter support system
As amazing as a super connected city, where everything is served up at the touch of a screen, sounds, it puts a lot of strain on the network infrastructure. That's where software defined networks (SDN) come into play. It simplifies the way networks connect with devices and optimizes existing hardware to run real-time applications on a larger scale. Agile and flexible, it offers a central control system allowing administrators to adapt to changing needs.
Simply put, SDN makes managing the ever-growing network requirements an easier and seamless task. As one of the pioneers of SDN technology STL is committed to proving smarter end-to-end networks for service providers, making the way we live convenient, efficient and definitely a whole lot smarter.