Mahanet, with STL, will give thousands of gram panchayats in Maharashtra a level playing field, by empowering them digitally.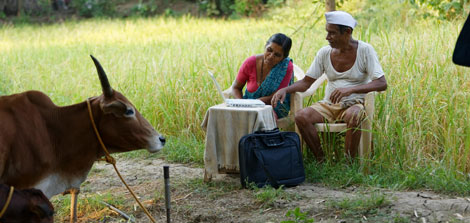 Optic fiber cables were not the only things lying coiled on the ground in Chandrapur. There were also the snakes.
Driving through jungles of Tadoba wild life sanctuary, the big challenge was to find a clear path. Clear of tigers that is.
At Ghadchiroli it was easy to convince the local villagers of the benefits of connectivity with the outside world. Not so the Naxalites.
Mahanet, that forms the second phase of the Bharatnet project of the Indian government, has undertaken the task of digitally connecting 13,000 gram panchayats in the state of Maharashtra, by bringing to them high-powered, fast and efficient internet.
STL has been chosen as the leading implementation partner for this endeavor and is currently working to connect 4,045gram panchayats across eight districts of the state, including the Vidarbha region.
In all, over 7.5 million citizens will be impacted.
But it's not just connectivity that is promising to change the lives of the people and places that optical fiber is reaching out to. There are enough studies to prove that the socio-economic growth of a region has a direct relation to its digital connectivity. Each of the places that will be digitally empowered, is slated to grow by at least 2 percent economically in the near future. In addition, at least 5000-7000 local people have been given employment in the ongoing project work, while nearly all the partners engaged in the project belong to local areas.
The mission, that began in November 2018, is scheduled to be completed by March 2020 by which time 20,000 kilomteres of cables would have been laid across the state. The scale and density is on par with that of a telecom operator network, if not more, given that the connectivity goes right till the last gram panchayat level. At some places, optic fiber has reached before a water connection could.
To ensure this important project finds its logical conclusion, STL has taken it up on an end-to-end basis. It starts with the training of every person involved in the project and culminates with it all coming together at STL Garv.
STL Garv is positioned at the end point of consumers. Not only will it be like a mini data cenetre storing, processing, dispensing information, it will also be the contact platform for every digital need of the villagers- be it providing the template for writing a letter to the collector or organizing video conferences amongst sarpanchs. With all of it backed by a robust network that ensures smooth and streamlined connectivity sans buffering.
Because digital connectivity is not always about racing ahead of others. Sometimes it's simply about being the great leveler.