Revenue increases by 28% , EBITDA by 17% on year till date (YTD) basis
73% revenue growth in global markets on YTD basis
Optical business revenues zoom 1.8X, EBITDA 3X on YoY basis
STL [NSE: STLTECH], a leading optical and digital solutions company, today announced its financial results for the quarter ended 31 December 2022. STL demonstrated sharp focus on growth areas, operational efficiencies and strategic capital allocation resulting in strong financial performance. Company revenues grew by 46% on YoY basis and 28% on YTD (year till date) basis and EBITDA increased by 17% on YTD basis.
Fibre dense networks have become absolutely critical for both digital inclusion and advanced use cases. Service providers across the globe want to take more fibre, faster to their customers. In India, the 5G rollout is in full steam and presents the need for rapid fiberisation. STL is constantly investing in fundamental capabilities and R&D to pack in more capacity and innovation into these optical network builds. The company is driving towards scalable growth in the Optical business and sustainable revenue streams in the Global Services business.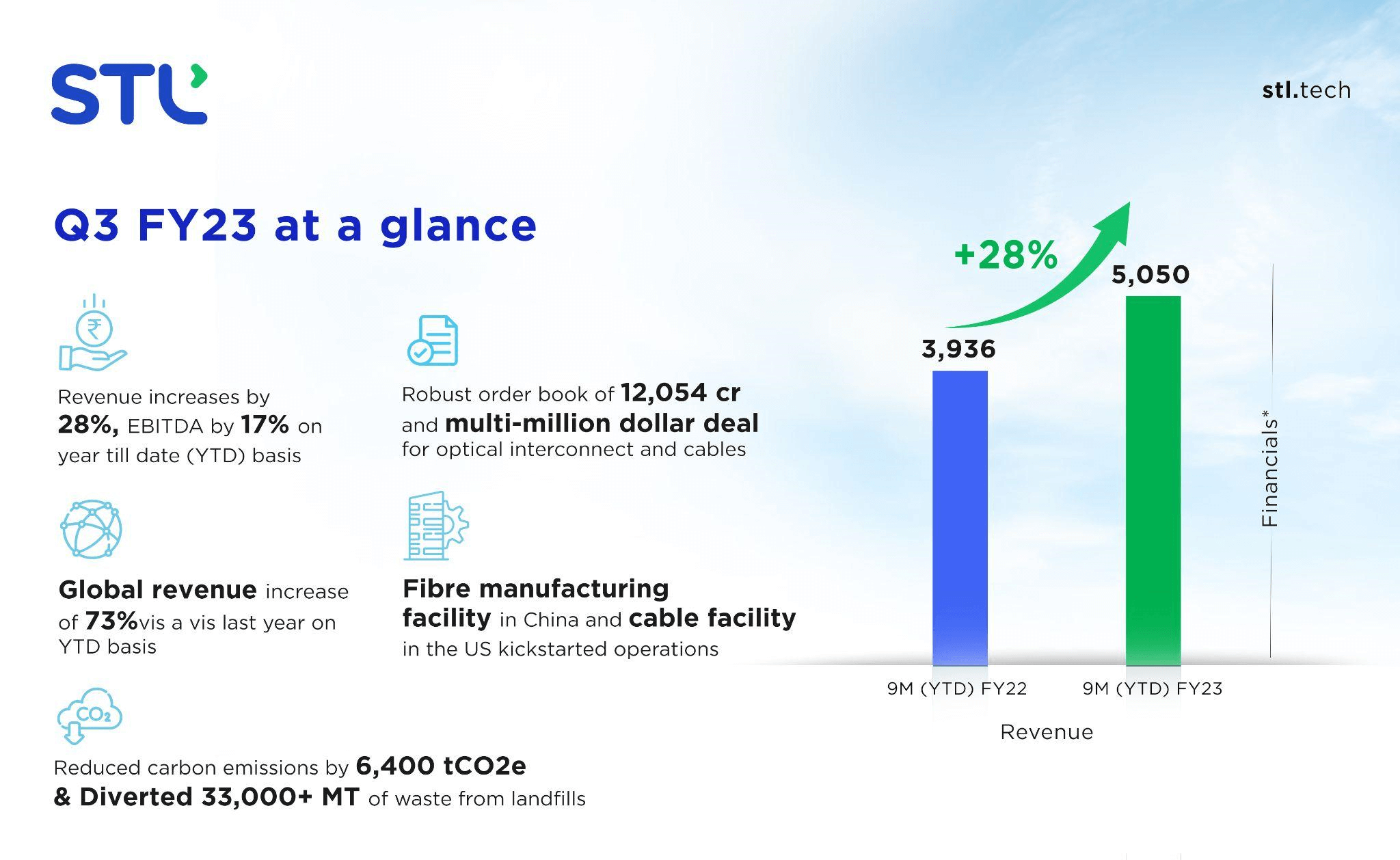 Here are some key performance highlights:
73% revenue growth in global markets (YTD) – With integrated value chain and capabilities on optical side, STL continued to win in its focus markets of US and Europe. STL's fibre manufacturing facility in China and cable facility in the US have begun commercial operations and will help the company capture new demand
Robust order book of INR 12,054 Cr – On the back of its capability to engineer unique solutions for service providers, the company signed multi-million, multi-year contracts with top-tier service providers
Greater traction on optical interconnect – Supporting FTTx rollouts, STL won a multi-million dollar deal for optical interconnect – which comprises of plug and play FTTx accessories and connectorised solutions – with a leading European telecom service provider
Fiberisation orders in India on the back of 5G roll outs – The company partnered with Indian service providers for their pan-India fibre roll out plans with orders worth ~INR 500 Cr
Progress on Net Zero goals – Keeping a close eye on its ambition to become Net-zero by 2030, STL concerted its efforts on sustainable operations by reducing its carbon emissions by 6,400 tCO2e, and diverting 33,000+ MT of waste from landfills. It also continued to press forward on water stewardship initiatives by harvesting and recycling of more than 125,000 m3 of water
Key financial highlights
STL continued the positive momentum while focusing on prudent capital allocation and profitability. Specifically in optical business, the company recorded a 78% YoY increase in revenue on the back of customer wins and better realisations
| Financial Parameters (INR Crores) | 9M (YTD) FY22 | 9M (YTD) FY23 | YTD (9M growth) | Q2 FY23 | Q3 FY23 | QoQ growth |
| --- | --- | --- | --- | --- | --- | --- |
| Revenue | 3,936 | 5,050 | 28% | 1,683 | 1,882 | 12% |
| EBITDA | 557 | 651 | 17% | 234 | 252 | 8% |
Commenting about the company's performance, Ankit Agarwal, Managing Director, STL said "Our performance this quarter has been strong. Sharp focus on cash and profitability, and calibrated exits from sub-scale businesses have poised us for long-term growth. I am excited about the market momentum and the pace of customer wins in our key markets. As we look ahead, I see technology innovation and R&D playing a pivotal role in our journey to become one of the top optical players in the world. Quarter four and beyond, we will continue to prioritise growth areas, optimise our capital structure, and execute with discipline.
About STL – Sterlite Technologies Ltd:
STL is a leading global optical and digital solutions company providing advanced offerings to build 5G, Rural, FTTx, Enterprise and Data Centre networks. The company, driven by its purpose of 'Transforming Billions of Lives by Connecting the World', designs and manufactures in 4 continents with customers in more than 100 countries. Telecom operators, cloud companies, citizen networks, and large enterprises recognize and rely on STL for advanced capabilities in Optical Connectivity, Global Services, and Digital and Technology solutions to build ubiquitous and future-ready digital networks. STL's business goals are driven by customer-centricity, R&D and sustainability. Championing sustainable manufacturing, the company has committed to achieve Net Zero emissions by 2030. With top talent from 30+ nationalities, STL has earned numerous 'Great Place to Work' awards and been voted as the 'Best Organisation for Women'.Read more, Contact us.
stl.tech | Twitter | LinkedIn| YouTube