STL
 [NSE: STLTECH], a leading optical and digital solutions company today announced that its optical fibre products testing labs have been rated highest on stringent quality standards set by the National Accreditation Board for Testing and Calibration Laboratories (NABL) and Telecommunications Engineering Centre (TEC). NABL is a member of the International Laboratory Accreditation Co-operation and Asia Pacific Accreditation Co-operation. These bodies are globally recognised and evaluate testing labs on high-quality parameters.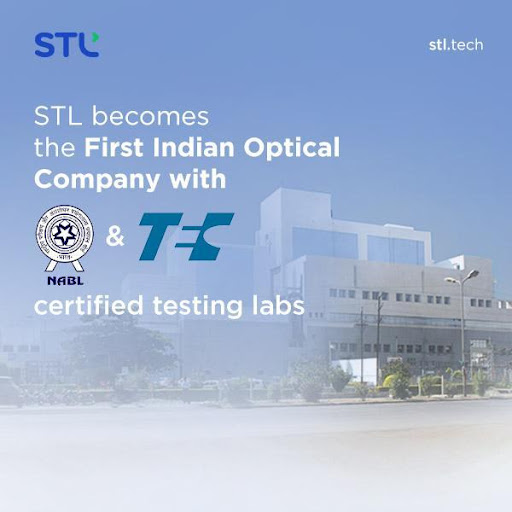 With its optical expertise of nearly 30 years, STL has 11 manufacturing facilities globally, with customers in over 100 countries. Deeply focused on quality and reliability, STL's optical solutions are rigorously tested in its advanced testing labs. The company's labs in Waluj in the state of Maharashtra and Silvassa in the union territory of Dadra and Nagar Haveli are the first optical products labs in India that have been recognised as high-quality by NABL in accordance with the ISO/IEC 17025:2017 standard and Conformity Assessment Body (CAB) by TEC.
5G, FTTx and Data centre deployments require robust optical networks lasting for the next 20-30 years. These networks need to be built for top quality, and future readiness for which the industry needs specialised labs to test optical products in the most challenging conditions. Products in these labs undergo the most rigorous global evaluation parameters laid by NABL and TEC-CAB before they are dispatched to STL's customers.
STL's testing labs are equipped with top-quality testing & measurement instruments, backed with fibre and network simulation software, along with a team of experienced engineers and researchers. They offer a broad range of quality testing services, in real-life conditions, on three broad parameters – transmission (attenuation, bend sensitivity, etc.), mechanical (tensile strength, Dynamic Fatigue, Strip force parameter, etc.) and environmental (extreme temperature, water tolerance and humidity test, etc.).
These accreditations are a testament to how the labs are operating on globally acceptable standards with robust quality management. It ensures that network builders get the best optical products. This is STL's achievement in establishing its competitiveness in the global market.
Commenting on this, Paul Atkinson, CEO, Optical Networking Business, STL, said, "Our labs are equipped with world-class infrastructure and state-of-the-art hardware and software tools which ensure network builders get high-quality optical products. With this NABL accreditation, we are all set to write the next phase of the global optical-led digital growth story."
Commenting on this, Paul Atkinson, CEO, Optical Networking Business, STL, said: "Our labs are equipped with world-class infrastructure and state-of-the-art hardware and software tools which ensure network builders get high-quality optical products. With this NABL accreditation, we are all set to write the next phase of the global optical-led digital growth story."
About STL – Sterlite Technologies Ltd:
STL is a leading global optical and digital solutions company providing advanced offerings to build 5G, Rural, FTTx, Enterprise and Data Centre networks. Read more, Contact us, stl.tech | Twitter | LinkedIn | YouTube
For more information, contact: