Ready to support Indian Telecom operators for their mandatory Optical testing 

Indigenous, NABL and TEC-certified labs in Maharashtra and Silvassa
STL (NSE: STLTECH), a leading optical and digital solutions company, announced its readiness to offer testing of optical fibre and cable products, in accordance with the guidelines of the Mandatory Testing and Certification of Telecom Equipment (MTCTE), a taskforce set by the Department of Telecommunications. These products will be tested in STL's testing labs which have been accredited by the National Accreditation Board for Testing and Calibration Laboratories (NABL) and Telecommunications Engineering Centre (TEC).
With 5G, FTTx and Data Centre deployments picking up, India needs to ensure high-quality and secure deployments as this digital infrastructure will shape India's journey for the next 20-30 years. The latest MTCTE guidelines, which are likely to be rolled out from July 1, 2023, stipulate that all types of telecom equipment listed under phases III and IV be tested and approved by local testing laboratories before they are installed in the network infrastructure.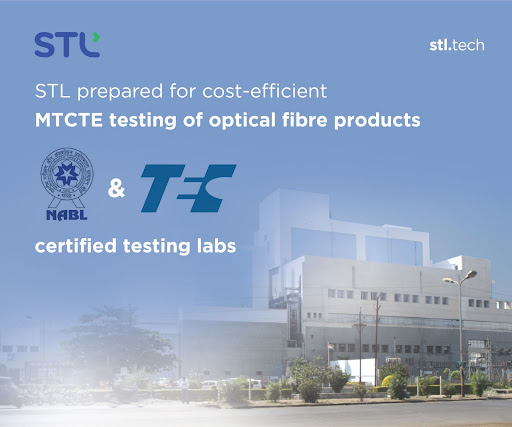 Considering the operators' aggressive network rollout plans, the availability of such labs, and the speed and cost of testing will be of utmost importance. STL's certified labs in Aurangabad and Silvassa are capable of handling the tests specified under 'Essential Requirements' of single-mode optical fibres and optical fibre cables. 
STL's labs are the first in India to have been recognised as high-quality by TEC's Conformity Assessment Body and NABL in accordance with the ISO/IEC 17025:2017 standards. They are equipped with top-quality measurement instruments and simulation software, testing products on three broad parameters – transmission (attenuation, dispersion, bend sensitivity), mechanical (tensile strength, fatigue, impact, crush) and environmental (extreme temperature, water tolerance and humidity) including testing of certain raw materials used in the cable manufacturing process like HDPE, PBTP, Nylon, Jelly, ARP, FRP and more.
The company has also outlined a transparent pricing framework to further align with the operators' Go-to-Market plans. This pricing framework has been meticulously determined considering factors such as scope, duration, and level of expertise required for testing and evaluation.
Commenting on STL's readiness for telecom equipment testing, Ankit Agarwal, Managing Director, STL, said: "Ensuring top quality and highly secure network build is the need of the hour. We want to enable telecom operators with credible, fast and efficient ways to comply with the MTCTE regulations. Our testing labs are well equipped to ensure world-class Optical Fibre product testing for building a robust digital infrastructure for the country."
About STL – Sterlite Technologies Ltd:
STL is a leading global optical and digital solutions company providing advanced offerings to build 5G, Rural, FTTx, Enterprise and Data Centre networks. Read more, Contact us, stl.tech | Twitter | LinkedIn| YouTube