In today's rapidly evolving world, occupational health and safety (OHS) has emerged as a fundamental aspect of responsible business practices. Ensuring the well-being of employees isn't just a legal obligation; it's a moral imperative that contributes to a more productive, engaged, and resilient workforce. Occupational hazards pose a threat not only to the workers themselves but also to their families, the community, and the surrounding physical environment.
According to estimates, the costs associated with accidents or illnesses can be significantly higher than the direct costs. In fact, they can range from 4X-10X higher or even more. Occupational accidents and illnesses can have numerous indirect costs that are difficult to measure. One of the most apparent indirect costs is the emotional pain and suffering experienced by workers' families, which cannot be remedied with monetary compensation.
It is crucial that employers are committed to health and safety and that:
Workplace hazards are controlled –

at the source

whenever possible;

All stakeholders  are informed about health and safety risks at the workplace;

There is an active and effective health and safety committee that includes both workers and management;

Organization's health and safety efforts are ongoing.
Ensuring a safe environment at manufacturing plants 
At STL, we have inculcated a Behaviour Based Safety culture across all our manufacturing plants. We are committed to creating a culture where employees can come to work bringing their 'whole self', and perform at their best potential safely.
Our journey to excellence is incomplete without a culture of safety. A safety culture is built by all of us with an awareness of our surroundings, systematic planning, systematic thinking, taking responsibilities, and being disciplined.
As we advance towards exponential growth, it has become increasingly important to ensure a risk-free and safe work environment at our plants. It is our foremost responsibility to ensure the complete safety of every employee at our plants and achieve ZERO harm. With this in mind, we have successfully launched the Safety Cultural Transformation Project 'ABHAY ' with worlds renowned safety transformation leader DuPont. The project 'ABHAY' (meaning 'Fearless') is aiming to transform our safety culture and to keep our people, communities, assets and environment safe, not only at work, but also in their personal lives. It is our foremost responsibility to ensure the complete safety of every employee at the plants and achieve ZERO Harm.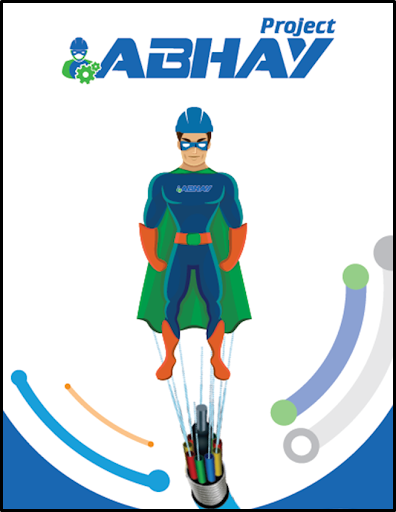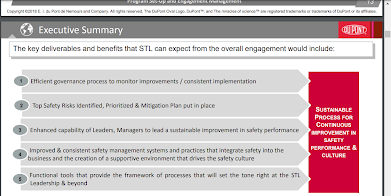 ABHAY Program objectives:
»Identify and mitigate key risks related to day-to-day activities to yield tangible safety performance improvements by reducing intolerable risk exposures 
» Enhance safety leadership capability to drive effective safety management system implementation and promote a "Safety Culture" in STL Operations / site(s)
» Increase risk awareness and develop adequate competencies from Senior Management down to shop floor to ensure effective implementation and increase discipline in execution 
» Achieve a long term sustainability of results by strengthening the safety culture across the organization
Program Structure: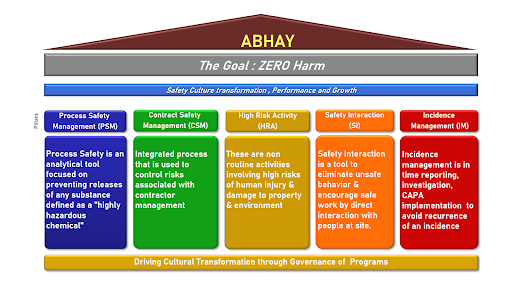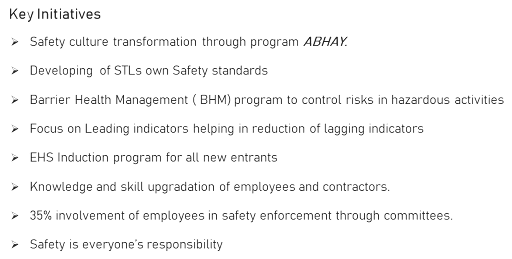 Our journey of Safety Cultural Transformation is now in its 58th month, and the results are known to all & learning is continuous
Impact of Project Abhay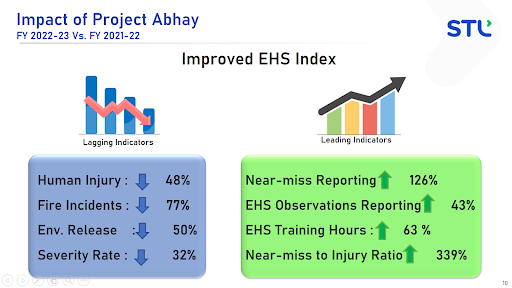 STL won the Prestigious Government of Maharashtra Award for Industrial Safety & Health – 2023. Our Shendra Draw Plant has been awarded with First Prize in 'Narayan Meghaji Lokhande Industrial Safety & Health Award- 2023 by Directorate of Industrial Safety & Health, Maharashtra.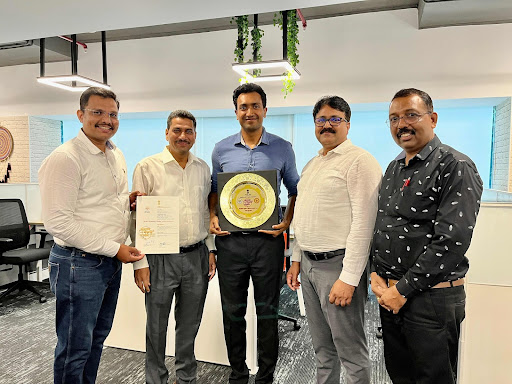 Sustainable Development Foundation has awarded Occupational Health Safety & Security Gold Award to STL – OF Waluj in telecommunication sector.
Sustainable Development Foundation, (supported by Ministry of Labor & Employment, Govt. Of India) is constantly working for social upliftment of the society through ensuring human safety as one of the key parameters since 2007. They recognized the contributions of STL in creating and upholding a healthy and safe work environment. The Award serves as recognition towards the efforts put in, by our team in achieving goals of improving the Environment, Health & Safety.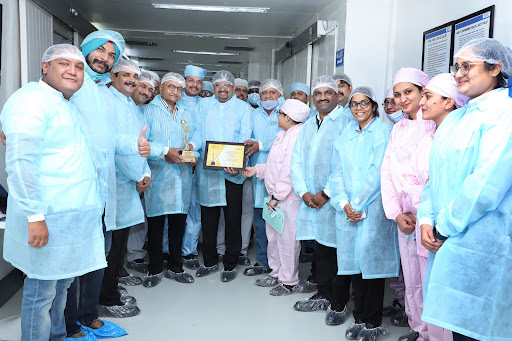 Project Abhay is a Safety Culture Transformation journey set in motion to achieve world-class safety performance in our operations. As a part of this journey, we have successfully completed the first milestone to have STL's own standards for PSM, CSM, IM, SI & HRA. Further we are in the process of developing new standards to meet global benchmarking practices. Now we have implemented our own standards in all manufacturing plants. Initially, we faced a few challenges in adopting new techniques, but now we have built expertise in them. We now have seen a very positive change in culture – our employees are now taking responsibility and accountability for their own and others' safety. Our focus is to adopt these standards for all our operations. We look forward to setting a benchmark in safety practices and making safety a way of life at all our operations.
This transformation is not a destination, this is a journey towards institutionalising safety culture across STL.