Background or Customer profile
A subsidiary of Limpopo Economic Development Agency, Limpopo Connexion provides broadband services in the Limpopo province in South Africa intending to transform it into a world-class knowledge society. To this end, Limpopo Connexion believes in continuous innovation to provide best-in-class broadband solutions to advance the ICT skills of the people of Limpopo and open up new opportunities for economic and social advancement for them.
STL implemented the new-age Digital BSS/OSS platform for Limpopo Connexion for its FTTx and Voice over IP (VoIP) services to enable it to offer the best-in-class digital experience to its subscribers while enhancing its operational efficiency and reducing expenditure.
The Challenges
Limpopo Connexion's mission to provide world-class broadband services to municipalities, businesses and citizens required a digital billing and charging infrastructure to meet its evolving needs. As a new broadband operator, the company required a flexible, future-proof solution that would accommodate a range of customer requirements, new services and charging models.
Limpopo Connexion is a regional service provider, with a small workforce. It, therefore, needed a system that was easily configurable and offered ease of use, minimal customisation and easy integration with 3rd party applications through open APIs.
The existing legacy solution prevented Limpopo Connexion from capturing the market opportunities by quickly bringing new products to its subscribers. This was crucial in providing a superior and digital customer experience to bring down subscriber churn. Further, the existing infrastructure failed to offer an end-to-end monetary and usage transparency to the end-user leading to billing-related issues.
Further, the company wanted to leverage a revenue assurance and fraud management system to prevent any revenue leakage.
Limpopo Connexions is also keen to provide wholesale and partner services to WISPs. It, therefore, needed a new-age partner management application for better and more efficient handling of its partners.
Key Business Requirements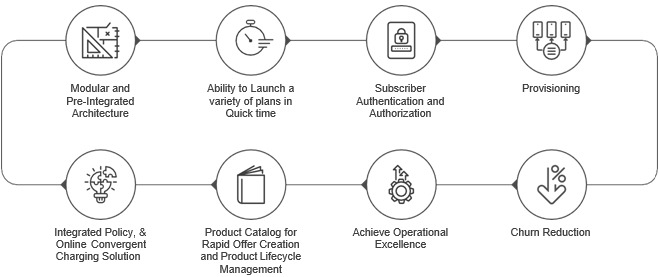 STL Solution
STL deployed a future-ready, fully containerized, webscale convergent enterprise billing solution for Limpopo Connexions' FTTx and VoIP services for both prepaid and postpaid subscribers. The new solution comes with the capability to support several networks on the same platform, thus simplifying the billing processes and ensuring greater operational efficiency.
STL's solution is enabling Limpopo Connexions to delight its subscribers by swiftly creating a variety of plans such as zone- wise packages, subscription-based charging, multi-tier FUP and quota-based plans, time of day, and shared plans, among several others. The new automated billing system offers unmatched agility to launch a new plan within one business day.
With STL Digital BSS/OSS solution's integrated usage metering and balance management feature, Limpopo Connexions gains unparalleled end-to-end visibility and control over subscriber's usage and monetary balance. In addition, a single Subscriber Profile Repository (SPR) for Digital Policy and Charging Rules Functions (PCRF) and Convergent Online Charging System (OCS) integrated Product Lifecycle Management (PLM) ensures ease in management operations of the system. For the end consumer, this provides an option for a single unified bill generation for multiple services for convenience.
STL's high-performing scalable platform makes it faster, simpler and easier for Limpopo to bill their enterprise subscribers. In addition, STL's solution provides flexibility to Limpopo Connexions by supporting various methods of subscriber authentication and authorization, including captive portal, IPoE authentication and location-based access, among others.
STL has also deployed Tech's Channel Partner, an automated system supporting effective handling of the entire partner lifecycle requirements. A flexible, scalable solution, the Channel Partner module is helping Limpopo Connexions attract and retain partners through effective management of complex partner issues while preventing revenue leakage through a carefully designed settlement process.
Compliant with TM Forum's eTOM process framework, the STL cloud-native solution delivers true convergence by providing single data ownership across key data entities such as customers, services and products.
The proactive fault management component of STL's solution is also helping Limpopo Connexions to quickly resolve network issues and improve customer experience.
The Impact
STL transformed the billing system to support Limpopo Connexions' current and future requirements. The pre-integrated stack and off-the-shelf features ensured that the entire deployment was completed quickly and smoothly.
With centralized Product Catalog and Product Lifecycle Management across multiple components, including Digital Billing & Revenue Management, Online Charging, PCRF and Customer Acquisition & Account Management (CAAM), STL's field- proven solution empowers Limpopo Connexion to grow its revenue by quickly bringing new products and services in the market.
With STL solutions' multi-tenancy support, Limpopo Connexion can host all the cities on a single unified instance, helping it bring down the OPEX and ensuring optimum utilization of the available resources. Further, with single-vendor delivering the entire integrated OSS/BSS solution, Limpopo Connexion will benefit from optimization in future maintenance, enhancement, and support.
In summary, STL's industry-leading Digital BSS/OSS platform enables Limpopo Connexions to address the current challenges, take advantage of emerging market opportunities, reduce subscriber churn, and significantly improve cost economics.