When we hear about 'Smart Cities' what is the first picture that comes to our mind? A well-planned city with intelligent lighting, intelligent traffic and waste management. A city with high-level surveillance for crime prevention. That's it. But ever heard of a 'Cognitive City'? 
Yes, in a multi-billion dollar project in the Middle East, a service provider has envisioned the megacity of the future – the Cognitive City. It will leverage the data generated in the city to fundamentally change how its citizens work and live. 

Let's get a sneak peek into this futuristic smart city
What will a cognitive city look like
In a cognitive city, the services for Cognitive communities will be provided 100% electronically. The cognitive city project will integrate artificial intelligence (AI) and robotics into every aspect of personal and commercial life. The project will use machine learning and predictive technology to continuously improve life for its inhabitants.
It's the power of prediction and predictability that will fundamentally reshape and change citizens' experiences
In such a place where connectivity will be the rule, not the exception, advanced technology will be ubiquitous. The service provider was targeting low-latency connectivity—the ability to process a very high volume of data with minimal delay. This hyper-connectivity had to be achieved through the installation of 5G Networks, Fibre Optic CableSatellite Networks and Wireless Solutions.
The service provider was looking for a technology partner that can help establish a ubiquitous, robust network infrastructure for connected communities. It aimed to position the region as a global leader in the development of 5G infrastructure and applications. This will envisage what a city must provide its citizens 20-30 years ahead of time.
The search for a trusted technology partner thus began…
Stepped in the right technology partner 
When a technology company, STL came across this first-of-its-kind unique opportunity of creating a cognitive community in the Middle East, they pitched in to fulfil the requirement. A team of enthusiasts comprising sales and technology champions was formed to meet the customer and understand the requirement precisely.
The team headed by Houthifa Rateb (application engineer, Wael Abdel Rahim (Regional Sales Manager), Gavin Faulds (Regional Business Unit Head), Matteo Villani (Technical Manager),  and Sunil Kumar (application Engineer)  approached the customer.  Our Team stepped up and showed an admirable persistent spirit to showcase our solutions and demonstrate to the customer that STL was the right partner. Gavin Faulds rallied the entire team behind this first-of-its-kind deal in the region enabling STL to have a solid platform to deliver this project.  The Sales team worked tirelessly with the tech team to configure the correct solution to meet our client's unique demands.
The team proposed an end-to-end solution covering all the requirements of the service provider. STL customised and supplied an optical interconnect solution including joint closures that solved space and mounting challenges for existing 5G infrastructure .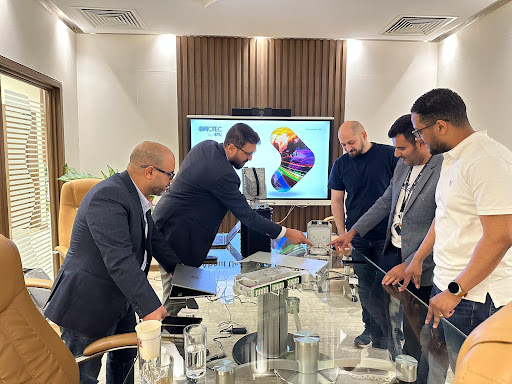 The entire team created a differentiation, the service provider was looking for. Our products and solutions stood out on the following parameters:
Cost efficiency –

With focus on ergonomic design and faster installation, our closures come with rotatable tube retention lips. This results in enormous cost and time savings during installation and maintenance.

Quality –

Optical connectivity solutions like Closures were made with high-quality and enduring thermoplastic material. Suitable for installation on utility poles, and underground chambers . All closures were equipped with a easy to use sealing CLAMP and a technical silicone gasket that guarantees the seal.

Execution time –

These are plug-and-play solutions and even a semi-skilled team can install them. This leads reduction of Technical Skills and execution time on field 

Ease of installation –

Our Compact distribution closures can be easily installed in underground chambers, direct buried, pole mounted, or attached to building facades
Our attention to queries from the service provider pushed our team to patent a reliable and compact method to store the pass-through cable modules.
The transformation to Smart Cities will achieve its edge through an ecosystem that will bring together solution providers like Elitecore, IT enablers, new partners and integrators to unlock the tremendous value that emerges by addressing the complex requirements of the smart city market.