27% annual growth in revenues, 29% in EBITDA, 51% in PAT
Continued momentum in US, UK, Europe and India
STL [NSE: STLTECH], a leading optical and digital solutions company, today announced its financial results for the year ended 31 March 2023. STL reported record revenues of INR 6,925 Cr, growing 27% over the previous year along with an impressive 29% and 51% growth in EBITDA and PAT respectively*. Last year, STL had shared its strategic intent to drive focused growth, which it followed through this year, with strong execution of the outlined priorities, resulting in a financially robust business. 
Sharp focus, strong operating performance
STL reported a strong 46% revenue growth in its Optical Business along with a 93% EBITDA increase, on the back of increased volumes and realisations, as well as significant growth in its focus markets. In the US,  STL kicked off commercial operations in its cable facility in South Carolina. In Europe and UK, the company deepened it's existing engagements and also partnered with 20 new customers, closing FY23 with orders valued at ~INR 2,400 crores. In India, STL worked with top telecom operators for their pan-India fibre rollouts, winning orders worth  ~INR 1,000 Cr. 
Making strong progress towards its goal of Net-Zero by 2030, STL recycled 150,000 m3 of water, avoided 8,000+ tCO2e and reused and diverted ~75,000+ MT of waste. STL also received Zero Waste to Landfill certification for all its manufacturing facilities in India and Italy. 
Commenting on the company's annual performance, Ankit Agarwal, Managing Director, STL said "Last year we sharpened our focus and set out on the path to be among the world top 3 companies in the Optical business.  I am delighted to see our focused strategy yield strong results for the company. The industry continues to show significant long-term growth and we are excited about co-creating meaningful solutions with our customers. We believe that, going forward, our strong leadership, customer focus, technology innovation, and sustainability will be the cornerstones of our success."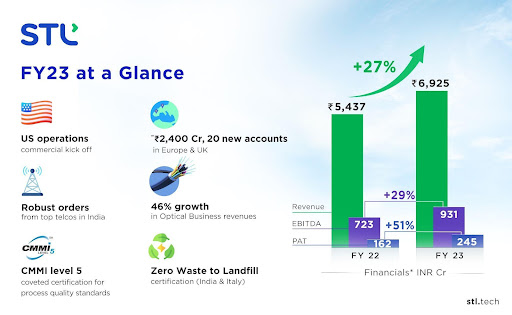 Unlocking long-term and sustainable growth
Global Services Business:  In FY23, STL established itself even better in the private telecom segment, received the coveted CMMI level 5 certification for its India operations and achieved operational break even in the UK. To unlock future growth potential of this business, STL's Board of Directors today approved the demerger of the Global Services business into a separate legal entity, on a going concern basis. This decision, once approved by the shareholders and regulators, will create an industry-leading business that will drive large-scale network and IT infrastructure projects with sharp customer focus and agility.  The shareholding of STL and the new entity will mirror each other and the new entity will be publicly listed.
STL Digital: At the beginning of the new financial year, STL also announced its foray into the multi trillion dollar IT services industry. This was achieved through the formation of STL Digital, which is focused on engineering digital experiences for customers across verticals including telecom, technology, manufacturing and healthcare. STL Digital is led by Raman Venkatraman, who is an industry leader with nearly 30 years of global experience. The business unit has acquired 18 global customers with an order book of ~INR 650 Cr and is creating a differentiation through its focus on talent and agility.
Financial highlights:
Financials*

INR Cr

FY 22
FY 23
Growth

Revenue

5,437

6,925

27%

EBITDA

723

931

29%

PAT

162

245

51%
*all financials are from continued operations
About STL – Sterlite Technologies Ltd: STL is a leading global optical and digital solutions company providing advanced offerings to build 5G, Rural, FTTx, Enterprise and Data Centre networks. Read more, Contact us, stl.tech | Twitter | LinkedIn| YouTube