STL [NSE: STLTECH], a leading optical and digital solutions company, today, announced a partnership with a public sector entity. In this multi-year agreement, STL will design, build, commission, and maintain 2 data centre facilities, with service deployment across multiple network sites across India.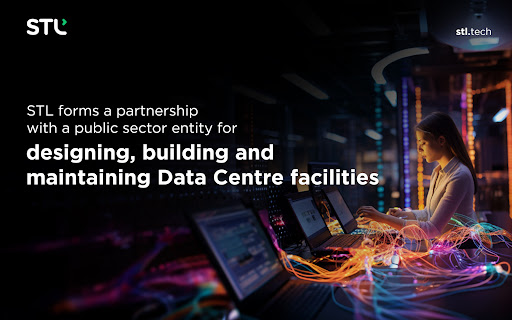 STL will also be responsible for 3 years of operations & management to ensure the reliable functioning of the envisaged project. This critical project will require seamless operations, 24X7 availability and a high level of intelligence to facilitate mission-critical business applications. STL's technology-led Data Centre connectivity and management solution is custom-designed to create intelligent and automated systems to run, monitor and protect the data centres, enabling new-age applications with advanced Cyber security solutions.
The Indian data centre market is projected to grow from ~US$ 5.6 billion to ~US$ 8 billion by 2026, according to a report by ASSOCHAM-EY, and STL is well poised to cater to this demand through its comprehensive solutions.
Speaking on this collaboration, Praveen Cherian, CEO-Global Services Business, STL, said: "STL has over a decade of experience in building and managing data centres. Our solutions are focused on getting automation and intelligence in the network and IT infrastructure. I am confident that our data centre connectivity and maintenance solution will integrate intelligent infrastructure, real-time monitoring, disaster management and troubleshooting. It will provide a secure, reliable, seamless digital infrastructure for the customer's operations."
About STL – Sterlite Technologies Ltd:
STL is a leading global optical and digital solutions company providing advanced offerings to build 5G, Rural, FTTx, Enterprise and Data Centre networks. Read more, Contact us, stl.tech | Twitter | LinkedIn| YouTube